Welcome
Welcome to Rubicon Pictures – an established creative script development and production consultancy. The company is owned and run by Sheryl Crown, an Oscar and BAFTA nominated television drama and feature film developer and producer.
Do you need insightful script development support with your feature film and television drama projects? If so, look no further…
About me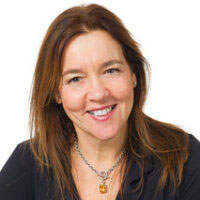 I am an experienced, award-winning, television drama and feature film content developer, script editor and producer, with a track record of collaboration with many new and established writers, directors and producers. I have a proven instinct for strong, human narratives across fiction and factual, combined with a forensic passion for script and story development.

See more
Testimonials
"In a longish career I've rarely met a script editor with such a forensic eye as Sheryl. Many producers (as we all know) are good at saying 'this needs to be better somehow', but not many are able to pinpoint with such accuracy the exact moments in a screenplay that need rethinking. It takes someone with real insight to identify the two or three key changes which will elevate a 100-page script, and this is a gold-dust skill from a writer's point of view. It has been my good fortune to work with her and I hope there'll be many more collaborations ahead."
Mark Watson – Writer, Novelist, Stand-up Comedian, Broadcaster
"I have worked with Sheryl on several projects, most notably on my first feature film (House of America) which we developed together from a stage play and ushered all the way through to its completed form as a cinema feature. Sheryl is an experienced and effective producer in her own right but comes from a development background, loves and understands stories . Having produced real films in the real world, she understands the requirements and strictures of the script as a working, industrial document but is always in tune with the soul of the work itself, the characters, the narrative, the tone.
People often complain that projects are "over-developed", that is usually because there have been too many voices, too many opinions influencing the project without a structured, holistic approach being applied. A trained third eye if you like, someone asking the right questions. The key to development I feel is having a person at the centre of the process who has a sure handle on what the project is and should be. Protecting its integrity as well as optimising its chances of being made. Sheryl, because of her experience in both production and development, is expert at this. If what you need is an honest broker and creative champion who can organise and coalesce then she is that person."
Marc Evans – Film and TV Drama Director 
"When I have worked with Sheryl, I have found her to be an  insightful, skilled and experienced script editor and development person with an ability to identify talent and see the creative potential of a story.  
She additionally has the skill to immediately understand script problems, combined with an  ability to identify why things might not be working, and subsequently is able to  articulate the issues and possibilities  in a clear and constructive way, so that effective solutions can be found. Sheryl  is a valuable contributor to the creative development process".
Ruth Kenley Letts - CEO  and Producer – Snowed-In productions and Bronte Film and Television 
"One of the many things a writer needs (along with vats of coffee and many food-based incentives - or is that just me?) is an executive who believes in them and understands the process of writing and the complexities involved in the transition of script to screen. I worked with Sheryl Crown and New Sparta during the production of my feature film 'Miss You Already'. I was incredibly fortunate to have such rigorous, thoughtful, tenacious and kind support. Sheryl really appreciated the aims of the script and had a great overview as regards story, structure and character. My genuine thanks to her."
Morwenna Banks – Screenwriter 
"Sheryl has great taste and is highly experienced and skilled in developing scripts into features. She does this with wit and warmth and has been a valuable ally to our company on numerous projects."
Matt Baker – Hanway Films and Recorded Picture Company